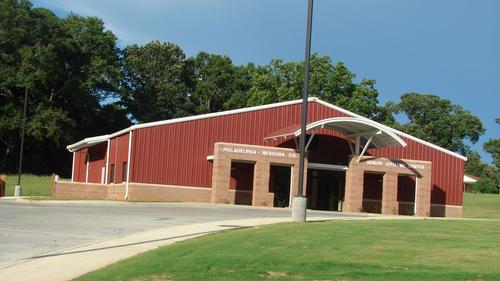 Northside Park Senior Citizens Center
Philadelphia-Neshoba County Senior Citizens Center
Northside Park
100 Burt Drive
Philadelphia, MS 39350
Phone: 601-656-1166
Linwood Senior Citizen Center
Linwood Community Center
Linwood Fire Department Station # 1
10061 Road 248
Union, MS 39365
Phone: 601-656-8154
Neshoba County seniors have a variety of opportunities and services available to them. From group trips sponsored by the churches and community groups, to exercise groups, homemaker clubs, dinner clubs, hunting and fishing clubs, camping clubs, and genealogy groups, to special services available from the East Central Planning & Development District Area on Aging, seniors can find opportunities to meet their social and physical needs.
Many Neshoba County citizens also enjoy concerts and presentations offered by the Philadelphia-Neshoba County Arts Council as well the activities available through the Neshoba County Extension Service, Neshoba County Coliseum, Pearl River Resort and the Philadelphia-Neshoba County Historical Museum.
For more information about community activities contact the Philadelphia-Neshoba County Community Development Partnership (CDP). The offices of the CDP is located in the historic train depot located at 256 West Beacon Street. Phone the CDP offices at 601-656-1000, Fax 601-656-1066 or call toll free at 877-752-2643 or e-mail: info@neshoba.org or visit www.neshoba.org
The East Central Planning & Development District Area on Aging strives to provide a comprehensive system of home and community-based services and elder rights protection at the local level. Services are designed to meet the needs of priority target groups, including those persons aged 60+, low income, rural, minority, and low income minority. The services offered by the agency include:
CONGREGATE MEALS PROGRAM provides, in a congregate setting, a nutritionally-balanced meal five days a week, Monday through Friday, to eligible 60+ persons at two (2) strategically located centers.
The HOME DELIVERED MEALS PROGRAM provides, Monday through Friday, a nutritionally balanced meal delivered to the home of an eligible 60+ person who is homebound and or functionally impaired, particularly those in greatest economic and social need.
A TRANSPORTATION PROGRAM is provided to persons 60 years of age and above who live in Neshoba County. Service activities include providing transportation for medical and dental treatment, social services, personal care needs, nutrition sites, and grocery shopping.
The INFORMATION AND REFERRAL/OUTREACH PROGRAM involves providing current, valid information to a client about available services and resources and linking that individual with the appropriate community resources to ensure necessary service will be delivered to the client.
HOMEMAKER SERVICES are supportive services provided or accomplished primarily in the home by a trained homemaker for the functionally impaired older person.
LEGAL ASSISTANCE offers advice by a licensed lawyer, including to the extent feasible, counseling or other appropriate assistance by a paralegal or law student under the supervision of a licensed lawyer, and includes counseling by a non-lawyer where permitted by law, to older individuals with economic or social needs.
OMBUDSMAN services are designed to ensure the quality of life for residents in long-term care facilities and addresses concerns about the issues that may affect their well-being.
CASE MANAGEMENT addresses continuity of services and provides the comprehensive assessment by which an individual's needs for services are determined. It includes planning and periodic monitoring and evaluation of an individual's progress toward the attainment of specific goals.
The MEDICAID WAIVER PROGRAM waives the existing Medicaid regulations in certain cases to allow for in-home and community-based service delivery to clients as an alternative to nursing home placement.
The MISSISSIPPI INSURANCE COUNSELING AND INFORMATION PROGRAM utilizes the aging network within the state to provide information and referrals to appropriate agencies regarding Medicare, Medicaid, and questions or concerns about healthcare coverage.
LIFELINE is a personal response system in the home of frail, elderly persons. 24 hours a day, it will signal for help when needed through a device worn around the neck or as a bracelet worn on the arm.
The TITLE V program is designed to promote useful, part-time work opportunities for low income persons aged 55 and above. For additional information regarding any of the above services, contact The East Central Planning & Development District at 601-683-2007.