The Neshoba County Emergency Management Agency serves as the coordinating agency for fire protection in the unincorporated areas of Neshoba County. The network of twelve (12) Fire Protection Districts serves the residents of Neshoba County. This network consists of over 20 stations with a group of 200 volunteer firefighters and emergency responders. Since 1993 The Neshoba County Fire Service in cooperation with each of the Fire Protection Districts has purchased 21 new class A Fire Trucks to provide protection to the citizens of Neshoba County.
Fire Protection Districts:

Hope Volunteer Fire Department Places New Quick Attack In Service
The Hope Volunteer Fire Department has placed a new quick attack apparatus into service.The Ford F-450 4x4 Crew Cab Chassis was acquired from Marshall Ford at a cost of $32,755. The Body was manufactured by Deep South Fire Trucks of Seminary, MS, at a cost of $61,850 and features an all aluminum body with an integrated skid unit.  The skid unit is composed of a 300 gallon poly tank with 10 gallon integrated foam tank and a Darley 375 GPM pump with  integrated around-the-pump foam capability.  The unit has both 1" booster hose for vegetative fires and 1 1/2" inch fire hose for vehicle and structure fires.
Stallo Fire Department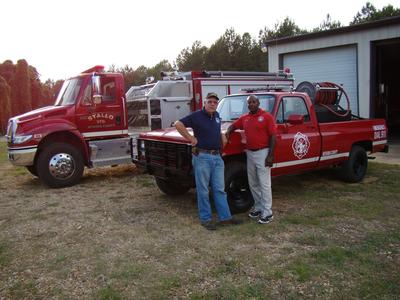 Insurance Commissioner Chaney Presents Check to Neshoba County for Fire Protection
While visiting the Neshoba County Fair Insurance Commissioner Mike Chaney presented Neshoba County with a check for $115,938.07 for Fire Protection.  These funds will be distributed to the twelve volunteer fire departments in Neshoba County for their use to acquire equipment, for training, for fire prevention and other needs.  This is the second check presentation made this year by Commissioner Chaney, he earlier presented a check for $70,000 to help fund the new pumper apparatus acquired by the North Bend Volunteer Fire Protection District which cost $202,671.  That grant was made possible through the Rural Fire Truck Acquisition Assistance Program funded by the Mississippi Legislature and supported by Representative Bounds and Senator Ward.  Supervisor Kevin Cumberland expressed his appreciation, "We appreciate Commissioner Chaney taking time to make this presentation and highlight the importance of our volunteer fire departments that protect and respond to emergencies in our communities every day."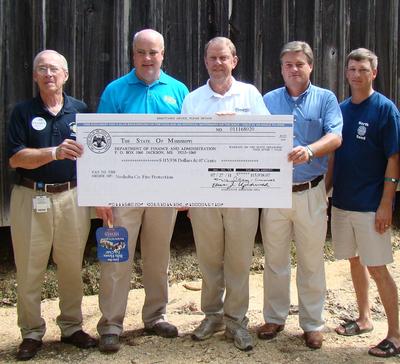 Picture (from left to right):  State Fire Coordinator Larry Barr, State Representative C. Scott Bounds, Insurance Commissioner & State Fire Marshal Mike Chaney, District 2 Supervisor Kevin Cumberland, and North Bend Fire Chief Donnie Luke.
Fairview Fire Department