The Burnside Lake Water Park is owned by The Pearl River Basin Development District, an independent state agency serving eleven (11) member counties and their municipalities and communities. The park is managed by The Philadelphia-Neshoba County Park Commission.
The Pearl River Basin District's member counties are located along the Pearl River and its tributaries. Counties that form the District include: Neshoba, Leake, Scott, Hinds, Simpson, Lincoln, Pike, Walthall, Marion, Pearl River and Hancock.
The Pearl River Basin Development District combines the geographic area of the Pearl River watershed and county governmental boundaries to form a regional organization to promote the beneficial use of the resources of the Pearl River and its watershed. This includes serving as a local coordinator and sponsor for federal programs of water resource development, flood management, pollution abatement, soil conservation, and recreation
Creation of the District
The Pearl River Basin Development District was created by the State Legislature in 1964 as a special fund agency to assume the legal responsibilities involved in coordinating local, state and federal programs for water resource development.
The enabling legislation was designed to permit those counties within the Pearl River Basin to join together for the purpose of planning and constructing projects for recreational uses, flood control, pollution abatement and soil conservation.
Characteristics of the District
Eligible counties were allowed to join on an individual basis by county-wide referendum. Member counties include: Hancock, Hinds, Leake, Lincoln, Marion, Neshoba, Pearl River, Pike, Scott, Simpson and Walthall.
The District has a 31 member Board of Directors. Two Directors are appointed by each County Board of Supervisors for 6 year terms. One Director is appointed from each of the following state agencies: State Board of Health, Forestry Commission, Department of Wildlife, Fisheries and Parks, and the Department of Environmental Quality. One Director is appointed by the Governor.
The District holds quarterly Board of Directors meetings in January, April, July and October. All items considered by the Board of Directors are first handled by the Projects and Policy Committee and the Budget and Finance Committee.
Pearl River Boatway Parks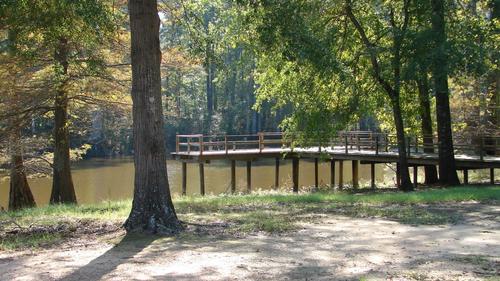 Burnside Lake Water Park consists of 115 acres in Neshoba County approximately 5 miles northeast of Philadelphia on Highway 15. The park is located on Burnside Lake, an oxbow lake of the Pearl River. The park facilities include: The Park Auditorium that can accommodate meetings of up to 180 people in heated and air conditioned comfort 22 improved campsites with water and electricity, boat ramp, oxbow lake, fishing pier, 3 open-air pavilions, 3 lighted ball fields, picnicking areas, playgrounds, nature trail, suspension bridge, bathhouse and comfort stations. Burnside Lake Water Park is operated and maintained by the Philadelphia Neshoba County Park Commission. 601-656-7621