Schneider Electric presents the Neshoba County Board of Supervisors with a Savings Success Award for reaching over $700,000 in energy savings.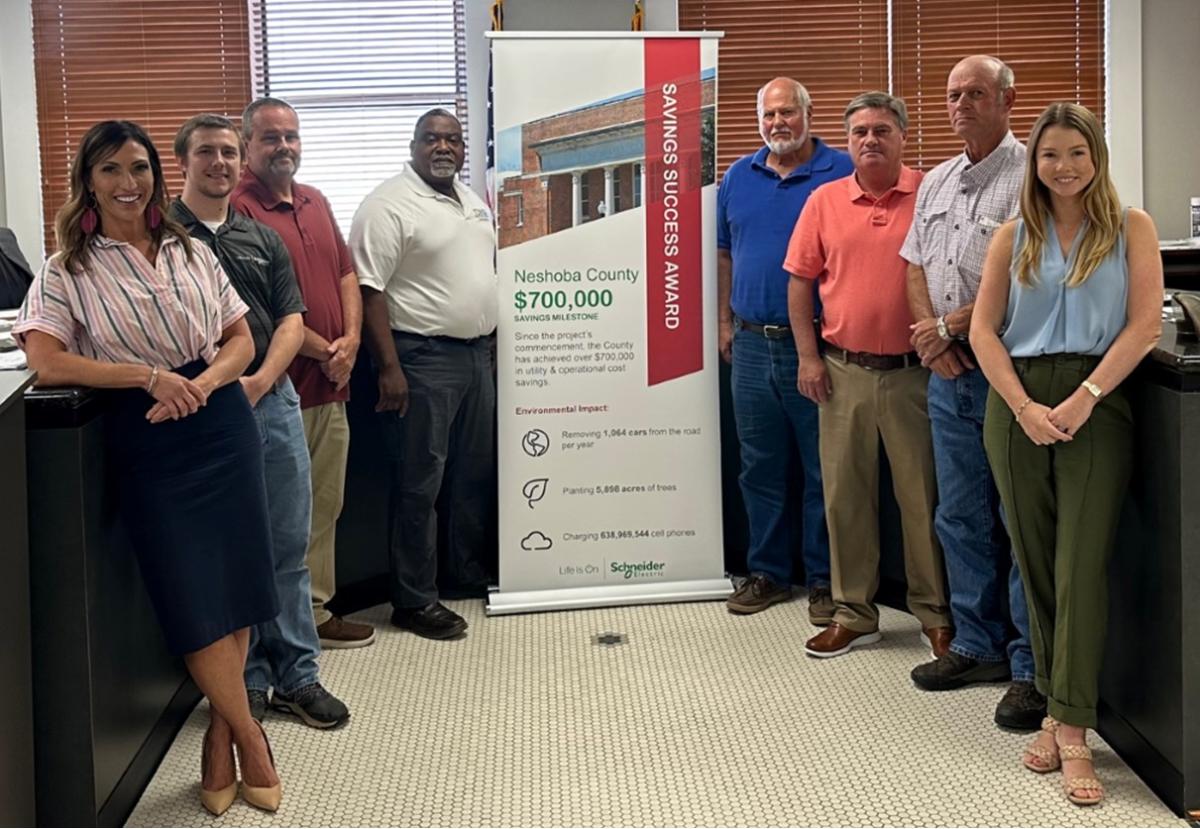 From Left to Right:  Allie Harris, Sales Market Leader, Schneider Electric; Kevin Beck, Performance Assurance Consultant, Schneider Electric; Kevin Wilcher, District 4; Obbie Riley, District 5; Keith Lillis, District 1; Kevin Cumberland, District 2; Kinsey Smith, District 3; and, Marissa Joseph, Regional Client Coordinator Team Lead.
Neshoba County has reached over $700,000 in energy savings through its energy savings performance contract (ESPC) with Schneider Electric.  
Neshoba County partnered with Schneider Electric because of its proven expertise working with cities across the state. The County worked with Schneider Electric to design, develop and implement a comprehensive and impactful program that would reduce utility costs by 34%. Through this partnership, the County was able to leverage these reductions to fund over $1.56M in capital needs and has saved over $700,000 to date. The County will continue saving throughout the life of the partnership, with the savings eventually totaling over $2.4 million. 
The savings are being generated through a variety of measures that improve energy efficiency and enhance the working environment, including:
County-wide LED interior lighting renovations to improve working conditions
Upgraded exterior lighting to LED county-wide to increase safety
Mechanical optimizations at the courthouse to improve comfort
System replacement for the server room at the courthouse to improve efficiency
Installed new Building Automation System to allow scheduling and control from one central location
Roof replacement at the courthouse to improve the working environment
A new private fiber network to enable communication across departments
Over the past 30 years, Schneider Electric has successfully implemented nearly 850 ESPC projects across the nation, saving its clients more than $3 billion. This project delivery method helps publicly funded entities make capital improvements over longer payback periods and offers many long-term benefits such as improved facility efficiency, occupant comfort, financial management and environmental protection.