The Neshoba County Board of Supervisors and Schneider Electric partnered in 2017 to complete a comprehensive infrastructure improvement project designed to reduce utility costs by 34% and modernize county facilities.
Through this partnership, Schneider Electric is guaranteeing over $2.4M in energy & operational cost savings, which will be reinvested by the county to cover the cost of over $1.56M  in comprehensive infrastructure efficiency upgrades.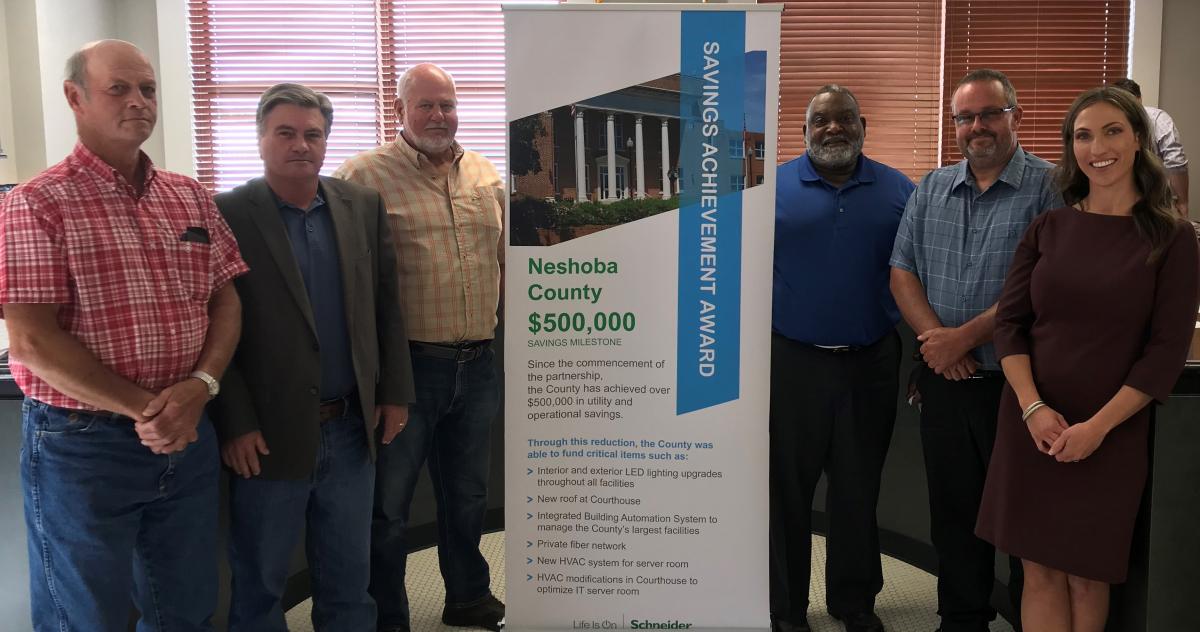 Allie Harris with Schneider Electric presented the Neshoba County Board of Supervisors with the $500,000 Savings Achievement Award
Phase 1 Solution Highlights
County-wide LED lighting renovations to brighten up county building interiors & exterior. This included over 1,450 lighting replacements and transformed the look across the county. Lighting systems are projected to last over 20 years as well, generating a maintenance savings, in addition to reducing the lighting energy by over 50%.
Streamlined operations with a new county-wide building automation system – providing remote monitoring and management of mechanical systems and energy consumption across major county buildings
Mechanical optimizations at the courthouse to improve comfort and efficiency, as well as, a system replacement for the server room
Roof replacement at the courthouse with a new SPF roofing system, complete with a 20 year material and labor warranty.
A new private fiber network, eliminating costly point-to-point T1 lines for buildings not included within existing network services, this generated a 55% reduction in annual data costs
The project was funded through a low interest, 15-year tax exempt lease purchase and the county received a $77,000 rebate from the TVA EnergyRight Program through Central EPA and Philadelphia Utilities.
The Results
Through this partnership with Schneider Electric, the county was able to leverage substantial operating cost reductions to fund over $1.56 M in capital needs and have saved over $500,000 to date. It is estimated that the county will save over $2.4 M over the course of the full partnership.
The Savings Achievement Award is the first level in a series of savings milestones. Throughout the life of the project, Schneider Electric and Neshoba County will continue to monitor savings and celebrate as they advance to even greater savings values.
Neshoba County has leveraged these efficiency tools and the training and support of the Schneider Electric team, to take a more aggressive approach to saving energy, enabling the County to achieve this $500,000 milestone far ahead of schedule.
Even though the guarantee as of June 2021 is $359,945, the county has already seen over $489,450 in actual savings, exceeding the guarantee by nearly $130K!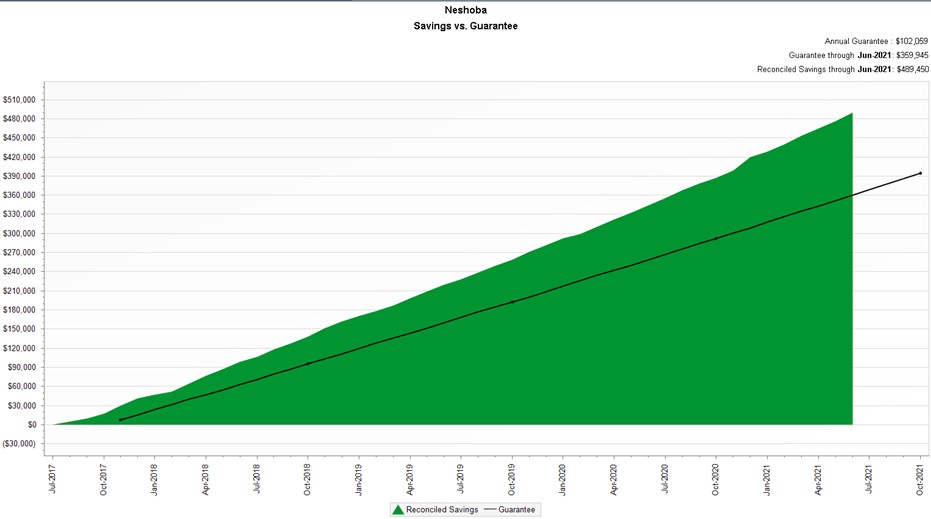 Year 4 Guarantee Through June-2021: $67,425
Year 4 Savings Through June-2021: $102,718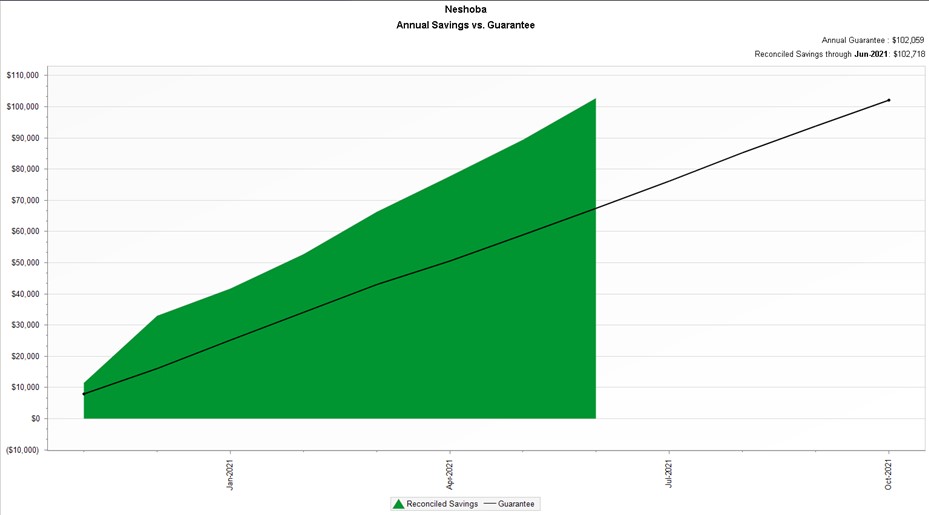 The Partnership:
Neshoba County partnered with Schneider Electric to engineer and implement this comprehensive energy efficiency project and capital reinvestment program in 2015, with installation starting at the beginning of 2017.
As a result of the continued success of this partnership, and immediate mechanical system needs at the Neshoba County Library, the county engaged Schneider Electric to complete a 2nd phase in 2020 to implement a full mechanical renovation. This project was expedited and completed just in time, to beat the heat of the summer in May 2021.
In addition to the successful partnership with the Neshoba County Board of Supervisors, Schneider Electric contracted with the Neshoba County School District in 2019 for a districtwide renovation, as well as, the neighboring Leake County Board of Supervisors.
Schneider Electric is a global leader in energy management with a reputation for delivering results and as being a highly ethical partner. Just in the state of Mississippi, Schneider Electric has helped fund over $60M in renovations for public entities and manages over $2.4M in annual guarantees. Across the southeast, Schneider Electric has implemented over $400M in energy efficiency projects and helped public entities secure over $60M in energy related grants, rebates and funding over the past 15 years. Nationally, Schneider Electric has implemented more than 800 successful energy savings projects nationwide with guaranteed savings of more than $1 billion.