The Friend of Extension Award was presented to Jeff Stewart at the annual Community Development Awards Program held at the Neshoba County Coliseum on January 23rd.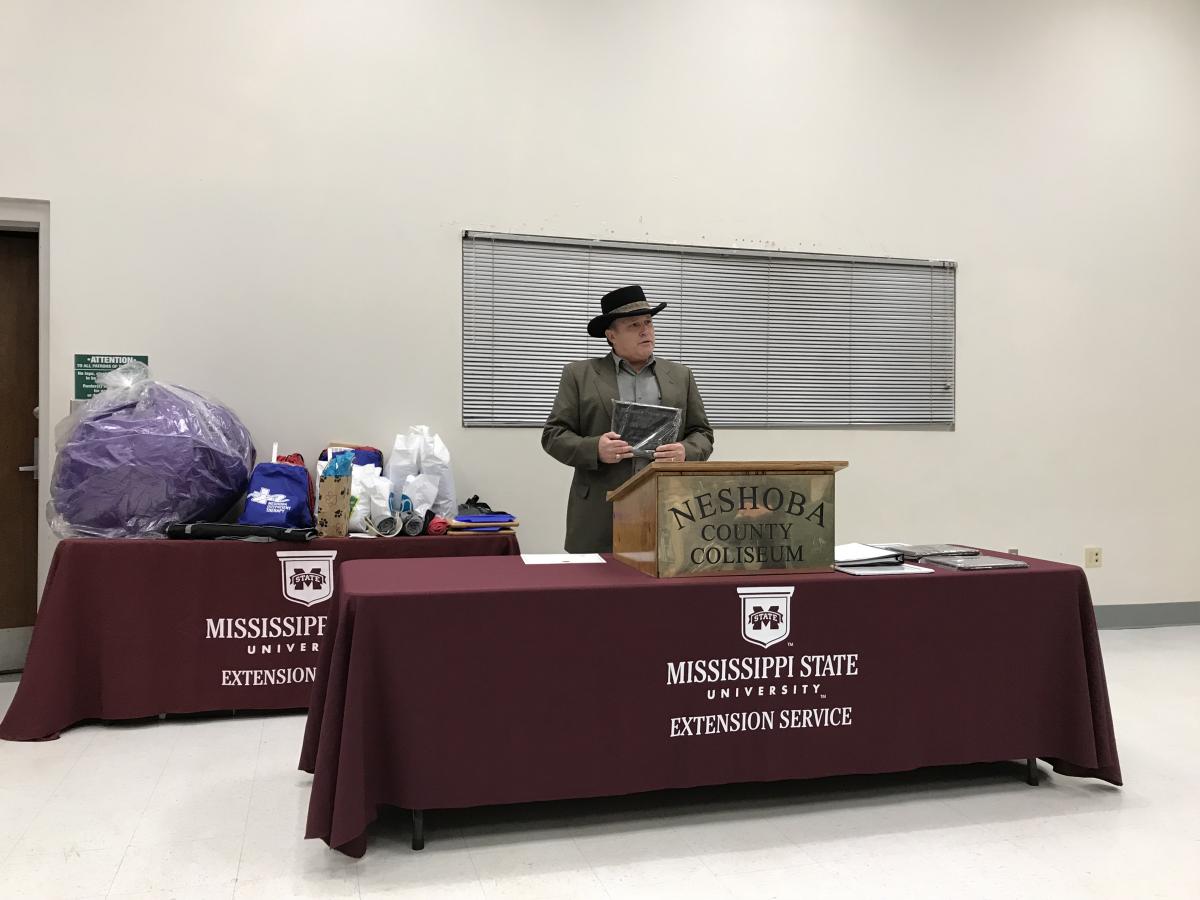 Jim McAdory, Ad & Natural Resources Specialist with the Mississippi Band of Choctaw Indians for the Mississippi State University Extension Service, presented the Friend of Extension Award to Jeff for his promotion of Extension Programs and Services on his morning radio show - "The StewDaddy Morning Show" every other week on Thursday mornings on 102.3 WWSL-FM.  The entire extension service recognized the significant contribution of Jeff in promoting the various activities, programs and resources of the extension service in service to the community of Neshoba and surrounding counties.  "The Stew Daddy Morning Show" can be heard from 6:00 AM until 9:00 AM each weekday on 102.3FM with the extension service program every other Thursday.  Congratulations Jeff and thank you for your service to our community.
The Annual Community Development Awards Program is held to recogize the achievements of volunteers in service to our community and is sponsored by the Community Development Partnership and the Neshoba County Extension Service.  Door prizes were awarded from various businesses around Philadelphia.  Attendees also enjoyed refreshments.  Those recognized for service this past year include:
Friend of Extension - Jeff Stewart
Community Development Club Awards 
Club of the Year
1st Place - Neshoba Community Development Club
2nd Place - Dixon Community Development Club
Secretary of the Year
1st Place - Dixon
2nd Place - Neshoba
Homemaker Volunteer of The Year - Darlene Sistrunk
Community Spirit Award - Marlo Beason
Literacy Council Volunteers of the Year - Tina Harris & Roberta Byars
Master Gardner Volunteer of the Year - Carlene Butler
Volunteer Firefighters of the Year
Arlington - George Holdiness
County Line - David Gardner
Dixon - Zachary Jackson
East Neshoba - Neal King
House - Ben Higginbotham
Linwood - Tia Graff
Longino - Jim Houston
North Bend - Jacob Stewart
Stallo - Yvonne Moore
Tucker - Kevin Smith
Fire Department of the Year
Mattie Hudson of State Farm Insurance presented Linwood Volunteer Fire Department the Fire Department of the Year award.
The Neshoba County Board of Supervisors extends a very grateful Thank You to all of the award receipients and appreciates the tremendous work performed by volunteers in service to their community and for helping to ensure that Neshoba County is a wonderful place to live and work.